What happened to SmoothApps?!
Our rebranding journey…
Starting a business is a deeply personal journey. It's not just about the product or service; it's about the name, the brand, the vision, and the emotions behind it. So, when I initially named our company "SmoothApps" years ago, there was a lot of thought and sentiment invested in that decision. The idea was clear: to assist our clients in delivering solutions that were smooth, simple, and successful. Back then, it all made perfect sense. However, it was a different era, a time before iPhones ruled the world and "apps" became synonymous with smartphone applications.
Over the years, the name "SmoothApps" caused some confusion. We often found ourselves fielding questions like, "Do you develop apps?" The world had moved on, and our name was trailing behind. It became evident that change was necessary to ensure our future growth.
And so, with great excitement, we are shipping a rebranding initiative for SmoothApps. We've not only dedicated a significant amount of time and effort to selecting a new name that truly represents who we are, but we've also taken a deep dive into our goals, values, and what sets us apart.
Introducing Org Whisperers!
As part of this transformative journey, we are unveiling our new company name: Org Whisperers. You may already know me as "The Org Whisperer," and there's a profound reason why this name resonates with us. Just like a horse whisperer can listen to the suffering and pain of a horse, soothe it, and help it heal itself, an Org Whisperer does the same for organizations. We're here to listen to all levels of your organization, uncover the painful barriers holding you back, and help you realize the incredible potential within your teams, charting a path to success.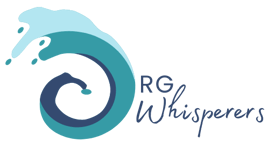 You'll notice that we've chosen the theme of an ocean wave to represent our brand. Wondering why?
The ocean's tranquility and transformative power are integral to our client engagements. We employ proven methods for conflict resolution and personal growth, much like navigating rough waters. It may be challenging, taking time and effort for an organization to master our approach, but when they do, the results are nothing short of exhilarating.
Interested in hearing more about our rebrand from our founder? Check out this short video.
Charting a course to Agile Transformation…
Our journey with clients typically begins with an in-depth Agility Assessment, offering insights into your current position and where you want to be in your Agile Transformation. We integrate our observations with crowdsourced ideas from your organization to propose a roadmap of solutions from the following service categories:
Catalytic Leadership

High-Performing Teams

Entrepreneurial Product Management

Scaling Organizational Value
We have quite a few original workshops and playbooks that we can custom-design to meet your specific challenges!
A Tip from the Org Whisperers
If your teams are like most, one of your biggest challenges is likely the inability to have the difficult conversations that are needed to resolve conflict. We've merged our ideas with the ideas of other thought leaders and developed a technique we like to call "3 Cups of Tea." It's one of the most effective ways to bridge communication gaps. In this blog, we guide you on how to implement this practice. We'd love to hear how it works for your team and share with you more fantastic ways to foster good communication.

Ready to Ride the Wave of Transformation?
Feeling intrigued and want to explore how Org Whisperers can assist your organization? Reach out to us or drop us an email at hello@orgwhisperers.com to schedule a free consultation.
We'd also like to invite you to subscribe to our newsletters and blogs for more insightful tips and exclusive offers from Org Whisperers by filling out the form to the right of this post!
We want to express our sincere gratitude for your continued support, trust, and partnership. Your collaboration has been instrumental in our growth and success, and we are excited to embark on this new chapter with you.
Welcome to Org Whisperers!
We're here to unleash the untapped potential of your teams and guide you toward more successful waters.

Ravi Verma is a Public Speaker, Agile Coach, Scrum.org Professional Scrum Trainer, Evidence-Based Management Consultant, and Blogger passionate about helping teams recapture the magic of making IT. As the Founder and CEO at Org Whisperer, Ravi blends ideas from the world of Technology, Entrepreneurship, and Organizational Development to develop strong teams and inspiring leaders at all levels of an organization. He recently co-founded his second startup - Al Dente, a platform that helps Agile coaches and organizations empirically improve business outcomes with Agile delivery frameworks like Scrum.

Ravi has around 25 years of Software Delivery and Consulting Experience, including Agile Enablement for companies ranging from 10 people to 10,000 people. He is able to earn the trust and respect of C-Level executives and help them understand how the application of Agile Principles, Values, and Practices can become a powerful means to achieving sustainable competitive advantage.

Ravi has a Bachelors Degree in Computer Engineering from R.V.C.E., Bangalore, and a Masters in Entrepreneurship from SMU, Dallas. Ravi received a Certificate in Organizational Development from DePaul University and Linkage Inc. and is an MBTI Certified Practitioner, with a Certificate in Advanced Conflict Resolution from Kilmann Diagnostics. He has also been trained in facilitating workshops for leading organizational change based on the book "Leading Bold Change" by Dr. John Kotter workshops.